Luni wants our customers to enjoy their jewelry for as long as possible. We advise purchasing polishing cloths to polish the metal lightly but remember that oxidization happens naturally when you wear metal jewelry. However, there are some tips to reduce tarnish.
Be sure that any perfume or lotions are completely absorbed into the skin before you put on your jewelry.

Apply all hair products before putting on jewelry

Make sure to remove all your jewelry before bed.

Remove your metal jewelry when you take a shower or bath.

Store away from heat, direct sunlight, window sills and vents

Wrap each piece individually in tissue or cloth to avoid scratching. Place each piece in cloth pouches, small boxes, or the plastic bag with tarnish tab provided.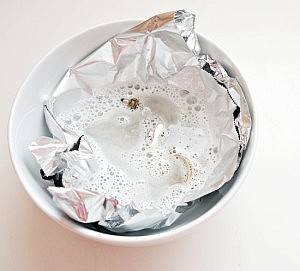 LUNI JEWELRY TIP
Here is an easy and natural jewelry cleaning solution that you can make at home to clean your metal jewelry.
1 tablespoon salt
1 tablespoon baking soda
1 tablespoon dish detergent
1 cup water
1 piece aluminum foil
DIRECTIONS
Heat water in the microwave for 1 or 2 minutes. Cut a piece of aluminum foil that roughly covers the bottom of a small bowl (like a cereal bowl). Pour hot water into the bowl. Place salt, soda, and dish-washing liquid into the bowl. Place jewelry on top of foil and let it sit for 5 to 10 minutes. Rinse jewelry in cool water and dry jewelry completely with a soft cloth. Discard the solution after use and make a new batch next time. According to wire-sculpture.com, "this works well for gold-filled, brass, german (nickel) silver, and sterling silver. I have even cleaned jewelry with freshwater pearls, shell cameos, and mother of pearl with no problem.".